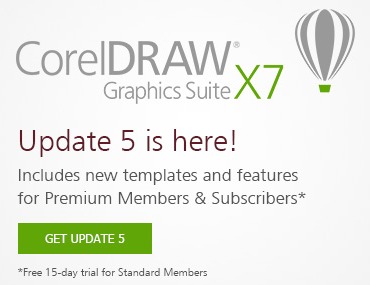 Recently published update 5 for CorelDRAW Graphics Suite X7. It increases efficiency with improved performance and stability. And if you have an active Premium Membership or subscription, you get more the following advantages:
Explore more than 340 new premium templates that feature 27 diverse design areas such as accounting, education, event planning, legal, hospitality and recreation. Take advantage of these creative and flexible templates to design your own business cards, flyers, posters and more.
Save time by quickly adjusting your zoom level increments, in and out, with common keyboard shortcuts. The zoom can be applied to the document window, dialog boxes and some feature preview windows.
Use the handy Premium Knife tool to precisely split objects. With the new Convert outlines button, CorelDRAW will convert the outline of the cut object into curves to accurately preserve the appearance of the outlines.
Create a banner from an active page or from selected objects on a page within CorelDRAW. Simply open your design, click Tools > Border and Grommet, and then choose to add borders and grommet markers to your document.
Enhanced Insights from Experts.
Detailed release notes you can read here.
CorelDRAW Graphics Suite X7 Update 5 will update CorelDRAW Graphics Suite X7.4, X7.3, X7.2, X7.1 or X7. The build number after this update is applied will be 17.5.0.907. Please note that this update also includes all of the features and performance/stability improvements from previous X7 Updates.